National Art Honor Society (NAHS)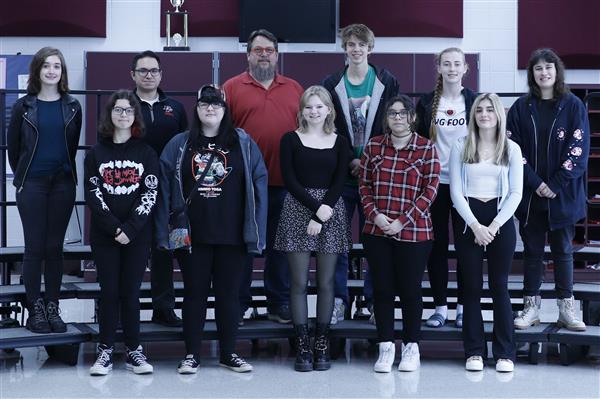 2022 - 2023 NAHS - Row 1: Inga Mereness, Raegan Bullis, Katherine Kammermeier, Yeritsel Garcia, Ashley Miller; Row 2: Northina Goeddeke, Mr. Mike Pitassi, Mr. Paul Boland, Clayton Flies, Molly Andersen, Tori Zaraza
Advisers
Mr. Paul Boland
Mr. Mike Pitassi
Description: Big Foot High School National Art Honor Society Students demonstrate an Exceptional Artistic Ability in their high school art classes. They have shown a strength in leadership and are interested in sharing their artistic gift with the community. National Art Honor Society students are interested in participating in art workshops with grade school students, assisting with student juried art shows, and having the opportunity to paint murals or throw pottery for BFHS or the community of Walworth.
National Art Honor Society Students may participate in...
Children's Art Workshops: NAHS members are invited to participate in 4 'field trips' during the school year. The field trips are in the BFHS school building in the art room. Students will teach middle school students to either paint an acrylic painting on a canvas board, or how to throw a bowl on the wheel.

Winter Art Show - NAHS members are invited to judge a student art show of 3-D artwork. NAHS members will choose winners, award ribbons and write comments to the middle school art students participating in the art show. The annual art show is held at the Walworth Public Library from mid January to mid February.

Mural Painting - Advanced painting students may be invited to paint murals for BFHS.