National Honor Society (NHS)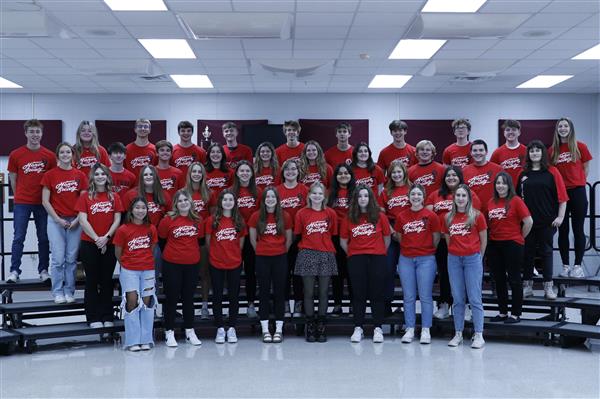 2022 - 2023 NHS - Row 1: Miya Duesterbeck, Claire Miller, Aubrie Hanna, Nicole Wardlow, Katherine Kammermeier, Breanna Browning, Maya Morand, Mia Nor; Row 2: Mariah Stewart, Mae Bona, Abby Hildebrandt, Lizzie Lueck, Robin Cronin, Itzel Ruiz Hernandez, Grace Hanson, Stephanie Santiago, Mrs. Andrea Nickel; Row 3: Ciara Connelly, Avery Tipps, Gannon Emmerich, Hannah Fritz, Coco Counter, Addie Larson, Lauren Decker, Quin Griffin, Henry Koerner, Victoria Zaraza; Row 4: Evan Langelun, Eleanor Paulson, Clayton Holt, Eli Gerdes, Patrick Corey, Clayton Flies, Finn Burdick, AJ Hartmann, Eli Laing, Zeke Hardt, Sydney Wilson
Adviser
Mrs. Andrea Nickel
Description:
National Honor Society is the nation's premier organization established to recognize outstanding high school students. Going beyond grade point average, members of National Honor Society have demonstrated a commitment to scholarship, service, leadership, and character. Once selected, members must continue to uphold all 4 pillars of membership through their academic and volunteer activities within the school and community.
Senior Members: Emily Barth, Ciara Connelly, Nicole Counter, Gannon Emmerich, Eli Gerdes, Grace Hanson, Clayton Holt, Katherine Kammermeier, Henry Koerner, Evan Langelund, Claire Miller, Maya Morand, Aaron Rowland, Itzel Ruiz Hernandez, Nicole Wardlow, Chloe Weborg, Sydney Wilson, Victoria Zaraza
Junior Members: Mary Bona, Breanna Browning, Finn Burdick, Patrick Corey, Robin Cronin, Lauren Decker, Miya Duesterbeck, Clayton Flies, Hannah Fritz, Quin Griffin, Aubrie Hanna, Zeke Hardt, AJ Hartmann, Logan Hering, Abigail Hildebrandt, Elijah Laing, Adeline Larson, Elizabeth Lueck, Mia Nor, Eleanor Paulson, Stephanie Santiago, Mariah Stewart, Avery Tipps
President: Evan Langelund
Vice President: Elijah Gerdes
Secretary: Emily Barth
Treasurer: Gannon Emmerich
Historian: Claire Miller
Blood Drive Coordinator: Maya Morand
How National Honor Society members are making a difference in their school and community...
Two yearly Blood Drives

After-School Tutoring

Little Libraries in Delavan, Fontana, Reek, and Sharon

Adopt-A-Highway towards Sharon

Helping with Registration

Rotary Corn and Brat Fest

Trunk or Treat for Walworth PTO

Volunteering at Fontana Fall Fun Fest, Sharon Victorian Christmas, and Walworth Winter Fest

Babysitting Services for Parent-Teacher Conferences at Big Foot High School

Thanksgiving Food Drive for the Sharon and Walworth Food Pantries

Volunteer at the Sharon Victorian Christmas activities

Bell Ringing for the Salvation Army

Cocoa & Cram Study Sessions during Exam Weeks

Valentine's Day Food Drive

Ushering at Graduation